Students' voices unlock the key to great conversations, assessment, and writing. When educators really listen to student voices and value their writing processes, students can confidently tap into their own desire to improve their writing. 
As educators, we want students to value their work and interact with the related reading material. This happens when we name and reward the effort students give and the progress students make throughout the writing process. Writing conferences can be a great moment to check in on these metrics. 
Here are some guideposts to steer writing conferences toward student effort and progress: 
1. Listen Deeply and Be Intentional with Questions
When students know that you hear them and are listening to them, they are more likely to interact with you as their authentic selves. 
When talking with a student one-on-one about a specific piece of writing, avoid asking a question you already know the answer to. This goes contrary to how we often interact with children and requires a tremendous amount of self-awareness and self-monitoring on the part of the teacher. We tend as teachers to ask rhetorical questions—a lot. We can counter this tendency by intentionally practicing genuine interest in our students' stories or asking questions that don't follow a simple "yes" or "no" format.  
As you work with students on a specific writing assignment, take notes on what they say— about their writing ideas, their worries, their vision for this written work, its inspiration, and what they will be working on for the next draft—and let them know you will follow up either virtually with online notes or in person. 
Investigative questions, such as the ones provided below, are always the best way to prioritize deep listening during student writing conferences. 
What felt strong about your writing today? 

What would you like to be able to do with this story you are working on? 

What aspect of the mechanics of writing feel challenging, and how can I help? 

What would you like someone to feel from this? Or learn from this? 

I am curious: How do you get from here to there in where you want to go? 

I am learning about you, and your writing helps me understand you. What would you like your audience to understand, and how can I help you get there? 
When students know that you hear them and are listening to them, they are more likely to interact with you as their authentic selves.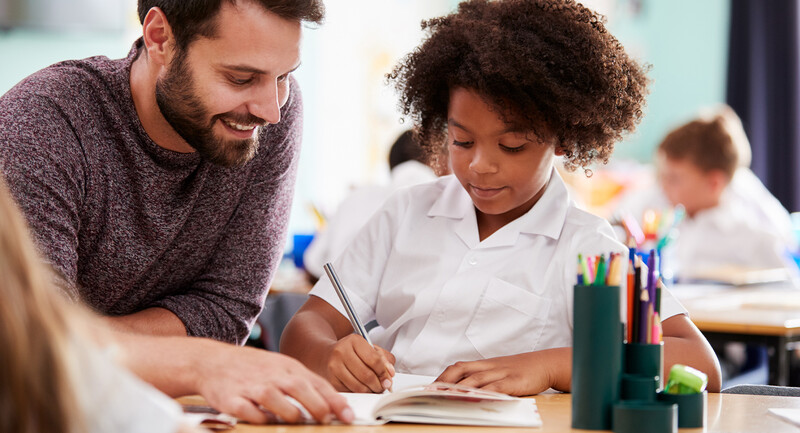 2. Value Grammar in the Context of What Your Students Are Trying to Say and Do
When considering grammar and structure, students must often follow rules that are difficult to understand. Spelling can be eccentric and varied, and pronunciation is no better. There are numerous exceptions to almost all the grammatical "rules." But the point of grammar is to ensure that we have agreed-upon rules of written and oral communication so that we can understand each other without misinterpreting ideas or intent.  
As you confer with a student, remember to focus on the why of writing first, before delving into the misspelled words, grammar errors, or quizzing the student on the purpose of an adjective. Anchor the grammar notes you give your student to the ways it will move along the plot, clarify a sentence, or develop a character. For example, students often overuse exclamation points early in their writing experience. We can invite students to remove them to create a quieter and more nuanced tone. Have them read the lines aloud to see how they sound without them.  
Another example might be to show students how breaking longer sentences into smaller sentences when developing a character's personality changes the way we perceive that character. When students can see the value of grammar and conventions, they will be much more interested in using them. When they see that grammar and punctuation, sentence structure, and language decisions can move an audience and inspire a listener, these tools become urgent to learn and to know. The rules will not only stay with them temporarily but will be internalized for a lifetime. 
3. Use Literature to Influence Your Conferences
Bring "mentor texts" to student writing conferences. If you know your student is working on a particular genre, bring a book or text from that genre. Share with your student excerpts of texts that demonstrate possible craft elements: strong character descriptions, an evocative beginning or ending, use of punctuation and grammar, and use of white space. For example, in working as instructional coaches in one classroom, we participate in a conference with a student named Zelle who shows us a story that feels so plain, she is worried her audience (of friends) won't like it all that much. We show her Carmen Agra Deedy's book The Rooster Who Would Not Be Quiet to share the ways Carmen uses punctuation in new ways and we invite her to try the same in her story. Later, we will return to a follow-up conference to see how she has done with her enhancements. 
As you confer with a student, remember to focus on the why of writing first, before delving into the misspelled words, grammar errors, or quizzing the student on the purpose of an adjective.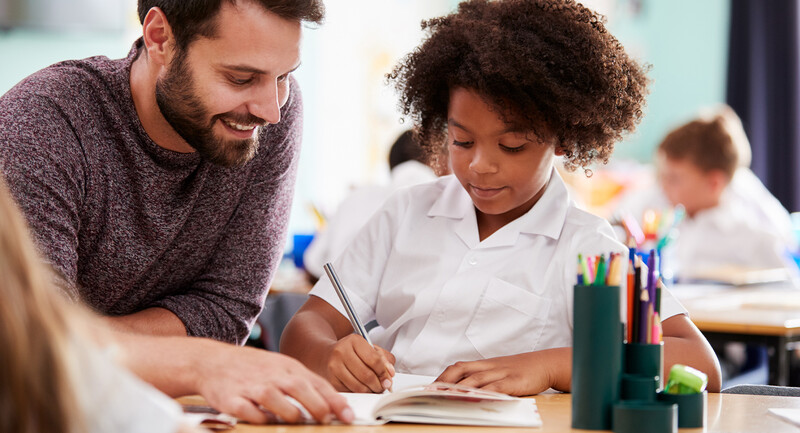 4. Use the Read Aloud as a Revision Tool
During the revision process, have your student read the piece aloud to you or to a writing partner. Let the student read the entire piece without interrupting. Then say: "I'm going to ask you to read this aloud to me again, and this time I'm likely going to interrupt a few times with suggestions, so keep your revision pen ready." As the student reads a second time, you can interject here, saying, "Hmm, that sentence feels like it will be more powerful if it is shorter; can you take a look to see how we can break up that longer sentence?"  
Try to contextualize the changes by asking students to imagine that they are preparing for a performance with a real audience. When you hear them slow their voice down or make changes in their tone, ask them to pause and see if adding white space (hard-return spaces in documents) or different punctuation choices might help to make the tone more authentic and more consistent with the writing. 
5. End the Conference with Meaningful Reflection
We want students to walk away from writing conferences with a better understanding of their work and immediate and actionable next steps. We also want them to leave with a sense of affirmation and that there is value in what they're doing. We want students to work all year on a sense of purpose and energy as writers. We love when students nearly jog back to their desk to get writing, as opposed to slumping back in defeat.  
To affirm written work, take time at the end of a conference for you and your student to reflect on your moment together with a "playback." Reiterate what you did together, what you heard the student say, and how you appreciate their time.  
After the student's piece is completed, you can make time for additional reflection, either by hosting small-group discussions or by asking students to reflect in a written response on how the process went, what in the writing felt successful, and what aspect of learning to write they want to give further time to. You then would reply to that reflection with your own affirming reflection on the student (or students') effort and progress during your time working together. 
We have created a checklist to guide you in talking to your students about the confluence of effort, progress, and product they are creating. This checklist can also help students make connections between the oral storytelling they do and the written work they are completing. 
The Takeaway
When we really listen to student voices and value our students' own unique writing processes, we can tap into their own desire to improve their writing.  
By listening deeply, questioning intentionally, valuing grammar in the context of the story, using literature and read-alouds in revision, and ending the conversation with meaningful reflection, we can help students see that we care about the story they have to tell. 
Tell Your Story
Learn how to increase students' skills as writers and storytellers with an innovative, inclusive, and empowering framework for teaching writing that centers student voice.