Let's face it: A lot of teachers are not fans of the one-size-fits-all professional learning options they're offered. However, they do value opportunities to hone their craft in ways that ultimately benefit their students. High-quality microcredentialing programs can deliver relevant, personalized professional learning experiences embedded in teachers' daily work with their students.
Microcredential designs (and quality) vary. We define "microcredential" as a performance-based assessment intended to allow the educator to demonstrate competency in a skill. Microcredentials give teachers the opportunity to document evidence of their skills while continuing to strengthen those skills in their daily work with students. Teachers work toward the credentials in much the same way students engage in performance-based tasks; both are examples of "assessment for learning."
Components of Successful Microcredentials
Like performance assessments for students, microcredentials for educators should include several essential components:
Success criteria (which will also be found in the rubric).

Resources to learn about and prepare for the learning task.

Job-embedded activities designed to demonstrate the learning targets (such as a performance task).

A pre-reflection to activate prior knowledge and provide context for the task, and a post-reflection to consider the impact of the performance task on teacher practice and student outcomes.

A description of the evidence that will be used to assess competency.
The characteristics of effective professional learning are well-documented. Yet, workshops, webinars, and conferences are seldom designed with these characteristics in mind. These more isolated, one-time learning experiences do have value. (In fact, a conference session inspired our foray into microcredentialing!) But what happens before and after these events is essential in determining the extent to which the learning is transferred into practice. Microcredentials demand follow-through from participants over extended periods of time. Convinced yet? There's more.
Additional Benefits
Microcredentials offer an array of other features that make professional learning more relevant, meaningful, and valuable. Here are a few:
They are goal-oriented. Well-designed microcredentials are built upon clear, achievable goals that are clearly related to positive impacts on students.

They are sustained over time. Educators need time to experiment, practice, and receive feedback for their learning to "stick."

They are job-embedded and relevant. Educators earn microcredentials by collecting evidence from their daily work with students.

They are personalized. Just as we differentiate learning experiences for students according to their needs, it is important that educators have choices in their paths toward professional learning goals. Educators working to earn microcredentials choose the learning resources that they find useful.
A simple Google search will reveal a multitude of microcredentials for educators, some of which reflect the design features described above. Accessing them can be as simple as a few clicks. Some school districts have invested in the design of their own microcredentials to align with district-wide priorities or needs (school improvement plans or district mission statements). For example, districts looking to engage students in more performance-based assessments might design microcredentials to help improve performance task design, rubric creation, or differentiating performance tasks.
High-quality microcredentials that align with district or school goals are worth adopting, even when they come from outside sources. In-house design of microcredentials requires training, collaboration, time, and resources that not all school districts have available. That said, in cases where a school or district emphasizes competency-based professional learning as a lasting component of the culture, it may be worth investing in training and support for internal microcredential design. Once a process is in place for design and review of microcredentials, schools can refine and replicate it over time to meet the changing learning needs of educators.
Microcredentials give teachers the opportunity to document evidence of their skills while continuing to strengthen those skills in their daily work with students.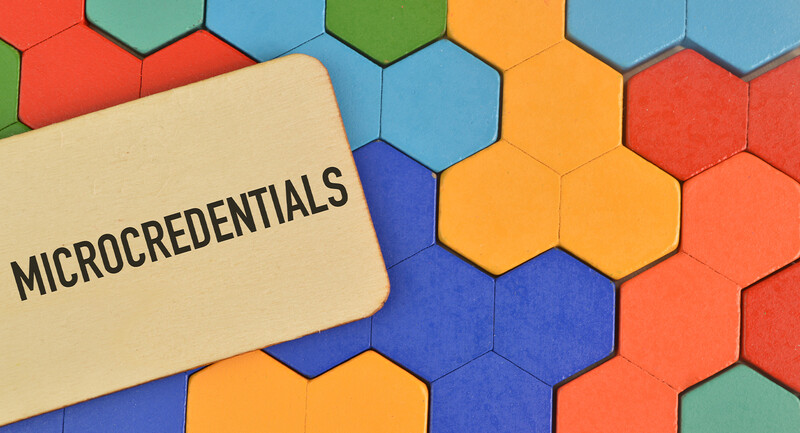 Thoughtful Implementation
Implementing a microcredential plan, whether it comes from outside sources or was designed internally, takes thoughtful planning and implementation. These are just some of the questions teachers and leaders should ask themselves well in advance:
Who can earn the microcredential? For example, is it for classroom teachers only or can specialists also participate?

What incentives will be available? Could it be used for continuing education units or as a prerequisite for applying for an internal promotion?

What support will be available to educators during the process? Will participants have access to coaching or resources beyond the credential like coursework or book studies?

How/by whom will the evidence be assessed? Will the credential be scored internally, or will external reviewers be deployed?
We applaud schools that have moved toward more authentic and performance-based learning for students, and we think educators deserve the same. As educators navigate the complexities of schools and classrooms, professional learning should prioritize student outcomes through goal-oriented, sustained, relevant, job-embedded, and personalized experiences. Microcredentials, done well, align with all these principles. We believe they are a powerful tool for transforming professional learning.
Building Educator Capacity Through Microcredentials
Absorb all the tools required to launch your own effective microcredentialing program. In their new book, veteran educators and microcredentialing experts spotlight the characteristics of high-quality microcredentials.