Peer learning supports an environment where students intentionally help each other acquire knowledge and skills. The concept of peers aiding each other in learning is not new, and there's substantial research highlighting the efficacy of this approach. Recently, there has been a growing interest in what is termed the "protégé effect," where students deepen their understanding of a subject by teaching it to others. The protégé effect suggests that when students believe they are learning material to teach someone else, they put in more effort and engagement, leading to improved learning outcomes.
In the video that accompanies Douglas Fisher and Nancy Frey's October Show & Tell column, we see the protégé effect in action as high schoolers engage in cross-age tutoring with elementary school students on the topic of engagement. For all students in the video, younger and older, this peer learning approach not only enhances academic understanding, but also nurtures crucial social and communication skills.
Unpacking Levels of Learning
In the video, high school students demonstrate how simple questions can unlock their younger peers' curiosity and excitement. As they connect personally with the younger students, these high schoolers create an environment that organically encourages engagement. One high school student asks, "If I were to come to your class and ask you what you were learning, what's something you could tell me?" In response, a 4th grader eagerly shares: 
"We are learning about 'how do animals adapt to the coldness?' Like polar bears—they're adapted to cold winter and ice and stuff. The frog adapted by camouflaging themselves. Same thing with the lizard camouflaging itself."
In this exchange, viewers can see the protégé effect working in two ways: The 4th grader strengthens his understanding of adaptive traits in animals by explaining the complex concept through specific examples. The high school student, too, deepens his understanding of levels of learning: "It's like you were the teacher," he says. "You were teaching me what I needed to know. That's 'higher learning.' You're really understanding everything to where you can tell someone else."
Building Nuanced Understanding
Candid dialogue emerges between the high school students and their elementary school counterparts in small groups throughout the classroom. Together, they discuss their interpretations of engagement, dissecting the concept from various angles. 
One high schooler encourages a table of 4th grade girls to explore the nuances of verbal participation. She asks, "When is talking considered disruptive?"
"When the teacher is talking," offers one student. "Let's say the teacher is teaching a lesson and two kids start chit-chatting while she's talking."
Extending this example, another 4th grader adds: "And talking about something that is not about the work."
Learning from peers creates environments where knowledge is constructed collaboratively, enhancing the learning experience for everyone involved.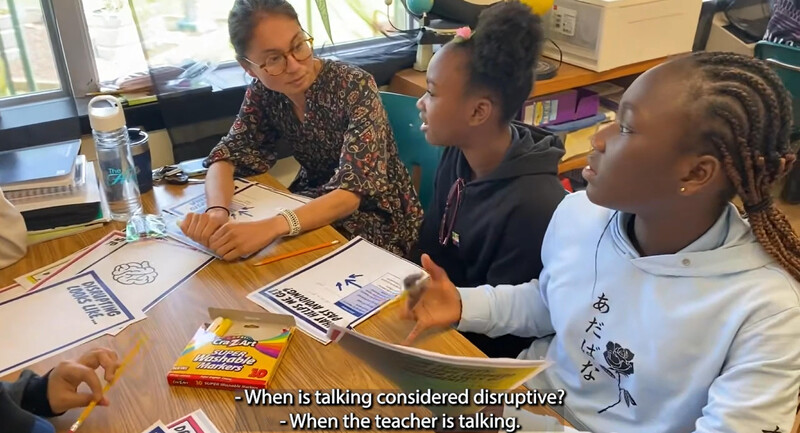 This exchange allows for an in-depth exploration of the concept of engagement while helping the younger students articulate their thoughts, share ideas, and build on each other's contributions to the conversation. Learning from peers within and across age groups creates environments where knowledge is constructed collaboratively, enhancing the learning experience for everyone involved.
Positive Outcomes of Peer Learning
As these students illustrate, peer learning creates a reciprocal dynamic where everyone is simultaneously a learner and an educator. Reflecting on his experience and the concept of engagement, one high school student concludes:
"This actually helped me learn a lot because, you know, you hear big fancy words from adults and you understand it, but you don't realize how simple it really is until you talk to the kids about it. They lay [a concept] down in front of you…That helped me get a deeper understanding of it."
While the video underscores the effectiveness of cross-age peer tutoring, that's only one of many evidence-backed models that can transform a classroom into a hub of peer-to-peer learning. In their column, Fisher and Frey describe five peer tutoring strategies and offer ideas on how to begin implementing them in nearly any learning environment. Using these peer-driven approaches, educators can create opportunities for students to not only deepen their knowledge, but also develop social skills that help prepare them for a successful future.